María Eugenia Conde Noguerol
Investigadora Asociada al GI Gramática del Español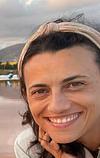 María Eugenia Conde Noguerol (meugenia.conde@usc.es) holds a degree in Hispanic Philology from the University of Santiago de Compostela and a PhD in Spanish Language from the University of A Coruña, with a thesis entitled Los verbos de cambio en español (2013).
Her training as a researcher began in 2004, linked to the project Diccionario "Coruña" de la Lengua Española Actual, directed by José Álvaro Porto Dapena at the Universidade da Coruña. During this period she carried out research stays at the Rafael Lapesa Foundation (RAE, Madrid) and at the University of Augsburg (Germany).
She has been a MAEC/AECID Spanish lecturer at the University of Addis Ababa (Ethiopia) during the academic year 2015/2016 and at the University of Malaya, Kuala Lumpur (Malaysia), from 2016 to 2019. She has also taught Spanish classes at the African Union (Addis Ababa) and at the Aula Cervantes in Kuala Lumpur. She is accredited as a DELE examiner by the Instituto Cervantes in Manila (Philippines). In 2018, she completed her Master's degree in Spanish as a Foreign and Second Language at the Universidade de Minho (Braga), with a dissertation entitled La motivación en los estudiantes de español en Malasia (Motivation of Spanish learners in Malaysia).
Currently, her research lines are open to the application of corpus linguistics to the teaching of ELE and to the syntactic description of grammatical elements, both in diachrony and synchrony.